Employment-Based Visa Renewal Process Will Again Allow Renewals by Mail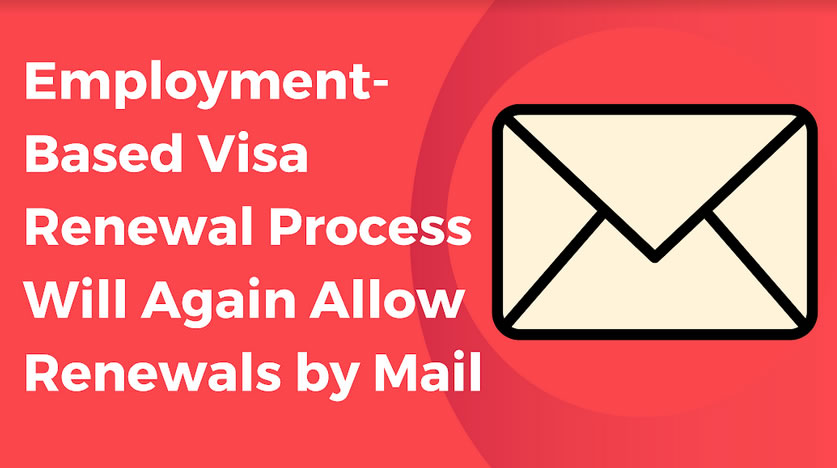 Always nice when something can actually be made easier for HR…
A major improvement in U.S. immigration processing is on the horizon for employers. The U.S. State Department just announced a pilot program to once again offer visa renewals by mail without traveling to a U.S. consular post. This will be a major relief to U.S. employers.
For details on the background, as well as the process and requirements, please continue to our blog…
Visa Stamps = Travel Documents
There are multiple government agencies involved in U.S. immigration processing. In addition to units of the U.S. Department of Homeland Security—the U.S. Citizenship and Immigration Services (USCIS) and Customs and Border Protection (CBP)—the U.S. Department of State has an important role in employment-based visa approvals.
The State Department operates U.S. embassies and consulates around the world, where visa stamps are issued. Visa stamps are travel documents. In some cases, the immigration benefit was approved already by USCIS, and other times the State Department adjudicates the initial application. For example, H-1B petitions are approved by USCIS first, and then the State Department issues an H-1B visa stamp based on the USCIS approval. In most cases, E-2 treaty investor visas and B-1/B-2 visitor visas are approved by the State Department first. While USCIS approves immigration benefits such as H-1B petitions, only the State Department issues visa stamps.
Travelers to the United States must either have evidence of that they are a U.S. national, have a visa stamp in their passport authorizing them to travel to the U.S. and apply for admission in a particular status, or be a national of a country that is eligible in the Visa Waiver Program and be approved to visit the United States through the Electronic System for Travel Authorization (ESTA) online system. The only exception is Canadian citizens, who aren't required to obtain U.S. visa stamps in most cases. (E-1 treaty trader and E-2 treaty investor visas are an important exception for Canadians and require a visa stamp from a U.S. consular post for travel documentation.)
Because visa stamps are travel documents, individuals who are physically present in the United States aren't required to have unexpired visa stamps that match their current visa status. Unexpired visa stamps matching the person's current approved status are needed only for travel to the United States.
Major Delays for Visa Applications at U.S. Consular Posts
The State Department's consular services have taken two big hits in recent years. First, the Trump administration's budget and policies resulted in resource and staff reductions at the State Department, including in consular services. Then the COVID-19 pandemic shut down services at U.S. consular posts around the world.
When consular services resumed, huge backlogs of applications caused service challenges at posts. It became the "new normal" to apply for a visa stamp, schedule an appointment or interview, and receive a consular appointment scheduled for months or even a year in the future. While tourist travel may be able to wait until next year, business travel has to be on commercially reasonable timeframes. Business visa applicants have had to email consular posts and plead their case for an accelerated appointment or interview, drastically increasing the email traffic for the already short-staffed consular visa units. It's a difficult situation for both visa applicants and consular staff.
As long as visa holders could remain in the United States, they didn't have to apply for a new visa stamp at a consular post. But when routine travel resumed after the pandemic, workers with visas resumed traveling again to see their families abroad after long months or even years of forced separation. And in the meantime, their visa stamp may have expired. So, to return to the United States after their holiday, they needed to obtain a new visa stamp at a U.S. consular post. Delays in visa processing at consular posts have become a new headache for employers because workers were stuck abroad waiting for the consular post to issue their visa with all the new delays.
Requiring visa holders to depart the United States to renew their visa stamp became a particular hardship when COVID rules and quarantines around the world made travel difficult, whether travel to countries where COVID restrictions remained significant or return travel to the United States.
Help Is on the Way!
So it came as welcome news when the State Department announced a new pilot project to once again offer visa renewal stateside, without travel abroad. The pilot program will start with employment-based visas in the H and L categories. This is a return to a service that was offered before 2004. Once visa holders obtained a visa at a U.S. consular post abroad and traveled to the United States, they could renew their visa by mailing their passport and visa application to the State Department in Washington, D.C., and would receive their passport and new visa by return mail. This was a great system for employers and employees with visas.
So why was this service discontinued? Consular posts serve an important role in reviewing visa applications. Consular staff are familiar with country conditions in the jurisdictions where they serve around the world, they have local language expertise, they can inspect documents and confirm they are consistent with that country's standard documents, and they are familiar with local security issues such as scams and forgeries. And consular posts have the opportunity to call a visa applicant in for an interview to question them about their intended and ongoing activities in the United States, if deemed appropriate.
So arguably, renewing visa stamps by mail is less secure because the in-country consular staff aren't involved after they issued the initial visa. But there already are many situations in which consular staff in the applicant's country aren't involved in visa renewals. For example, citizens of any country, who are authorized to live in the United States, may apply for visa renewals at U.S. consular posts in Canada or Mexico, for their convenience, rather than traveling to their home countries for visa applications. So allowing visa renewals by mail seems to have significant advantages with only a minor compromise in terms of security.
One important point is that all visa applicants had to apply initially at a U.S. consular post. When they apply for a renewal stateside by mail, they avoid a second in-person application at a consular post—they don't avoid the consular post entirely. The mail-in renewal process should help consular posts reduce their major backlogs of visa applications and interviews.
The State Department says the pilot program for H and L visa renewals by mail will start later this year, with no firm date yet.
Article provided by content partner BLR.  Author Leigh Cole is an attorney with Dinse P.C. in Burlington, Vermont.