Reminder and Insights: California's Supplemental Paid Sick Leave Expires on September 30th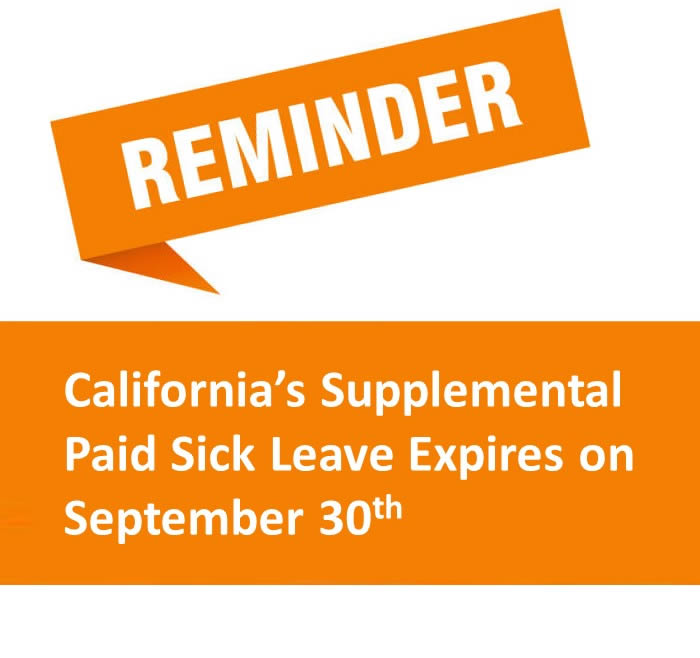 Like a tree falling in the forest when there is no one there – California's Supplemental Paid Sick Leave (SPSL) requirements appear to be coming to a quiet, almost silent end.  Despite numerous attempts in Sacramento to pass a new or extended version of the existing law before the current session ended on September 10th, nothing was sent to the governor.
As a reminder, the COVID-19 Supplemental Paid Sick Leave is set to expire on September 30, 2021.   Short of an unlikely executive order, the end of the month will mark the end of mandatory paid COVID-19 leave under California law.
For an overview of some of the lingering nuances employers will want to be aware of, as well as a refresher on exclusion pay under Cal/OSHA's Emergency Temporary Standard, please continue to our blog.
A Little Nostalgia
The 2021 COVID-19 CA Supplemental Paid Sick Leave (SB 95) was signed by Governor Newsom on March 19, 2021, and became effective ten days later.  It was retroactive to January 1, 2021 – extending from the expiration of 2020 state and federal (FFCRA) laws.  It was an entirely new law calling for an entirely new bank of 80 hours of paid sick leave for full-time employees for 2021.  Although an entirely new law, SB 95 borrowed much of what had been in the state's September 2020 Supplemental Paid Sick Leave program as well as the federal FFCRA.
Under SB 95's Supplemental Paid Sick Leave law, CA employers with 26 or more employees have been required to provide up to two weeks (80 hours) of supplemental sick leave if an employee is affected by COVID-19.
What Happens Now?
As of September 30th, CA employers are no longer required to provide additional paid sick leave for COVID-related reasons.  Statutory CA paid sick leave (of course) is still in effect as are local paid sick leave ordinances, but the "supplemental" 10 days is no longer required.  While this leave can be used for COVID-related absences, the employer cannot require it.  Also, keep in mind that, under state paid sick leave laws and local ordinances, COVID-related leave will no longer be eligible for the tax credits that were available through the American Rescue Plan Act.
On a federal level, the optional COVID-19 related leaves under the Emergency Paid Sick Leave and Emergency FMLA, both expire on September 30th.  However, the Biden Administration's COVID-19 Action plan requires all employers with 100 or more employees to provide PTO for obtaining vaccinations or recovering post-vaccination.
For employers with employees that will be out on the supplemental leave at the time of its expiration, the CA Department of Industrial Relations addressed this in its FAQs:
The requirement to provide 2021 COVID-19 Supplemental Paid Sick Leave will end on September 30, 2021.  If the law expires while a covered employee is taking this leave, the employee can finish taking the amount of 2021 COVID-19 Supplemental Paid Sick Leave they are entitled to receive.
Exclusion Pay Under the Emergency Temporary Standards
Somewhat overshadowed by the more inclusive Supplemental Paid Sick Leave requirements has been "exclusion pay," which is provided for through Cal/OSHA's Emergency Temporary Standard.  The original incarnation of the ETS was adopted last year and set retroactive to November 30, 2020, but significantly revised effective June 17, 2021, to take into account (among other things) the easy availability of vaccinations.
There are many components to the ETS and all CA employers are advised to be familiar with it. The full text of the revised ETS can be found here:   COVID-19 Emergency Temporary Standards.
In its "simplest" terms, the revised ETS requires employers to put in place specific preventative measures to stop the spread of COVID in the workplace.  Further, it requires employers, in many cases, to provide "exclusion pay" to workers who are unable to work because they were exposed to COVID at the worksite.  Essentially, it is addressing COVID cases that are considered to be workplace-derived, not from outside the workplace.
The ETS requires that employers pay all employees excluded from the workplace their full wages and maintain all benefits as if they had not been excluded by the employer. This can be a little tricky when addressing irregular work schedules.  Further, these wages must be paid no later than the next regular pay date after the pay period(s) in which the employee is excluded.
There are a few exemptions from the pay requirements, specifically:
If the employee received disability payments or was covered by workers' compensation and received temporary disability.
If the employee works at a location with one employee who does not have contact with other persons
If the employee only works from home
If the employee is teleworking from a location of the employee's choice.
If the employer can demonstrate the close contact was not work related.
Note that the revised ETS (as opposed to the original ETS) requires that an employee receive exclusion pay even if they are not able to work due to severe COVID symptoms or otherwise.
Employers may require employees who are excluded from work under the ETS to first exhaust 2021 Supplemental Paid Sick Leave.  Not much time left for that!
As of now, exclusion pay is scheduled to be in effect until January, and will likely be extended at least through the first quarter of 2022.
Next Steps
This might be a good time to do a thorough review of your paid sick leave policy and remind your employees that the current remedy for COVID-related paid time off will generally be available only through standard policies.  Additionally, because the supplemental paid time off is no longer available, employers with under 100 employees (i.e. not subject to the new federal plan) will have to decide how they will handle any pay for required testing, vaccinations or vaccination recovery time, all of which was covered under the SPSL.