Is Recruiting and Retention the Top Concern of Business Leaders Today? Today is the Last Chance to Share Your Opinion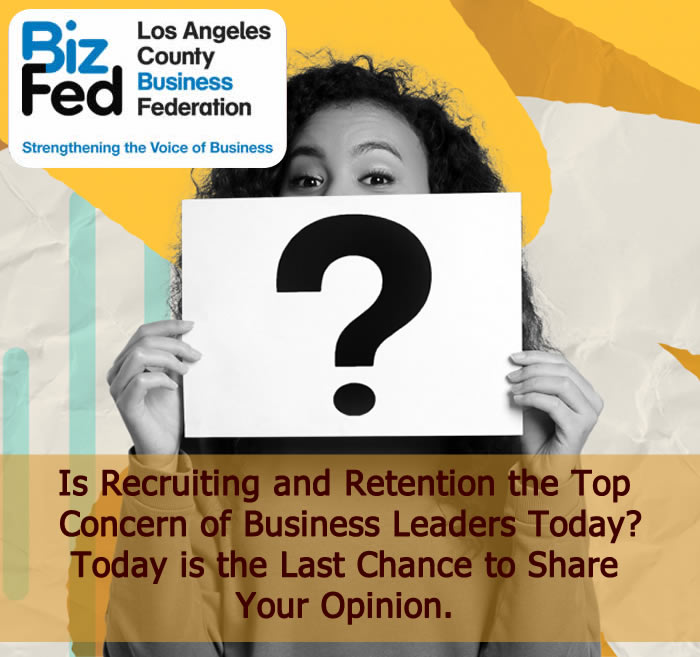 The annual poll closes at 6:00 PM Monday May 9th.
Be sure to complete it today!
For the past two years, the top concern of Los Angeles area business leaders has been homelessness.  Is that still the case?  Perhaps now it is inflation, or recruiting and retention, or maybe crime…
Click the link below to complete our poll.  It will take about 10 minutes…
https://EmployersGroup.BizFedPulsePoll2022
The Los Angeles County Business Federation (BizFed) unites 226 chambers, trade associations, minority business groups, economic development organizations and business improvements to speak out for a strong economy.
 As an active member of BizFed, Employers Group encourages each of our members to take the annual Pulse Poll.
 The insights gleaned from member responses will determine how BizFed ranks their policy priorities, maps out their advocacy work, and makes decisions about how best to serve you in the coming year. BizFed needs your time, attention, and unique insights to get this right.
 A historically busy election season is upon us and a class of new leaders will soon take the reins. BizFed needs to conduct a full business community check-up before that happens. It starts with the 2022 BizFed Pulse Poll.
We look forward to sharing the results and insightful analyses from this always-impactful survey in late May.
https://EmployersGroup.BizFedPulsePoll2022
It's crucial that you weigh in because these poll responses will help shape BizFed's policy priorities and advocacy work for the coming year.