A Primer on Interstate Commerce and FLSA Coverage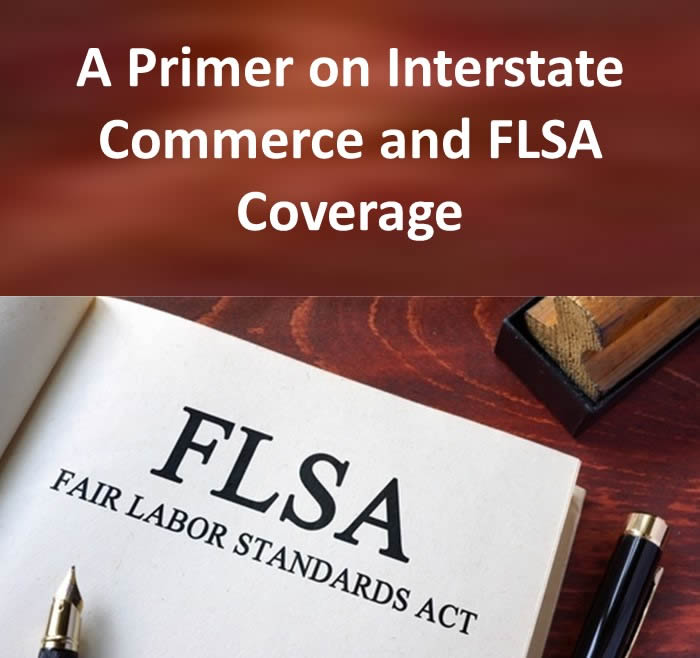 It is not just in CA!  Employers in all states must be fully versed in the nuances of the Fair Labor Standards Act (FLSA) and, as an employer in Florida recently learned, it does not take much to Interstate Commerce to Trigger FLSA coverage.
The US Department of Labor holds that employees are covered by the FLSA on an individual basis when they are engaged in interstate or foreign commerce on the job. Interstate commerce means any work involving or related to the movement of persons or things (including intangibles, such as information) across state lines or from foreign countries.
Examples of covered employees who are engaged in interstate commerce include:
An employee such as an office or clerical worker who uses a telephone, facsimile machine, the U.S. mail, or a computer e-mail system to communicate with persons in another state.
An employee who drives or flies to another state while performing his or her job duties.
An employee who unloads goods which came from an out of state supplier.
An employee such as a cashier or waitress who uses an electronic device which authorizes a credit card purchase.
For an overview of a recent 11th Circuit Court of Appeals decision on FLSA coverage, please see the full article below.
11th Circuit: Doesn't Take Much Interstate Commerce to Trigger FLSA Coverage
The U.S. 11th Circuit Court of Appeals (which has appellate jurisdiction over federal trial courts in Florida, Georgia, and Alabama) recently issued an important decision about when an employee is covered by the Fair Labor Standards Act (FLSA). Specifically, the court looked at whether the Act protects an employee who makes three to five phone calls per week to out-of-state customers and vendors.
Background
The FLSA is a federal wage and hour statute that sets various requirements for how employers must pay employees. Most notably, the law requires you to pay employees at least the minimum wage for each hour worked and overtime pay of 1.5 times their normal hourly rate for any hours worked over 40 in a workweek.
Whether the FLSA covers the employer or the employee's employment generally can be established either on an employer-wide basis or a per-employee basis. Both coverage standards require either the employer or the employee to be engaged in interstate commerce.
Facts
All County Environmental Services, Inc., a pest control business, had only one location in south Florida, where Wendy St. Elien worked as an administrative assistant. She filed suit alleging the company failed to pay her overtime. To prove she was covered under the FLSA's "individual coverage" standard, she had to show she engaged in interstate commerce in her employment.
St. Elien made between three and five phone calls per week to out-of-state customers and vendors. Specifically, she called out-of-state customers who had homes in Florida for permission to access their properties in the state for pest control services. She called the out-of-state vendors to discuss billing and payment on items purchased from their local stores.
The 11th Circuit examined the FLSA's text and found the term "commerce" does indeed include out-of-state communication. Therefore, St. Elien was engaged in commerce as the term is used in the law, and her employment was covered by the Act. Wendy St. Elien v. All County Environmental Services, Inc., et al. (Case No. 20-11619, March 18, 2021).
Takeaway
The 11th Circuit's ruling shows the FLSA can be read broadly to cover different types of employees. You should be extremely cautious in determining employee coverage under the Act. Consider consulting with legal counsel before deciding whether an employee is covered and thus entitled to its protections including overtime pay.
Article courtesy of content partner BLR. Author Jeff Slanker is a shareholder at Sniffen and Spellman, PA, a law firm with offices in Tallahassee, West Palm Beach, and Pensacola, Florida.