Part II – Top HR Frights of the Past 18 Months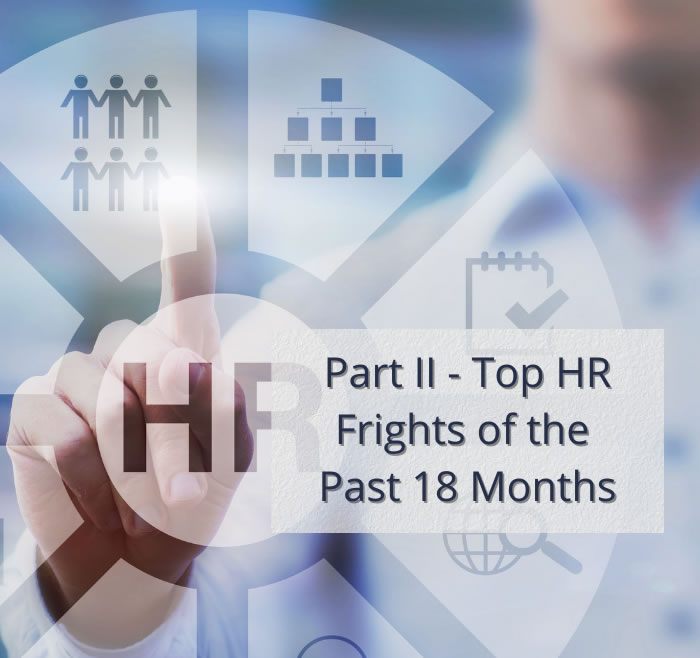 Halloween may be behind us for 2021, but the HR frights waiting for us the remainder of this year and into the coming year have not receded into the darkness.
Last week we featured the first 10 HR frights in our blog post: https://www.employersgroup.com/blog/halloween-mind-top-hr-frights-past-18-months.  Of course, one blog post is not enough to cover all the issues that will be chilling our spines.  Please continue to this week's blog for the second of two parts in this series.
10 More Things Keeping HR Pros Awake at Night, pt. 2 of 2
HR pros wear many hats. For more than a year and a half, they have been at the epicenter of the COVID-19 outbreak while dealing with a boatload of both regular and pandemic-related workplace issues. In recognition of the resilience they've shown while managing the extraordinarily wide range of challenges, we recently came up a list of 10 things that are keeping them especially busy.  With help from a recent survey, here is the second of two installments, underscoring 10 more things causing HR stress.
Determining if You're Covered by Biden's Executive Orders
On September 9, President Joe Biden announced Executive Orders (EOs) mandating COVID-19 vaccines for a wide array of workers, including federal employees, federal contractors, healthcare providers, and companies with more than 100 employees.
Employers are still waiting for regulations from the Occupational Safety and Health Administration (OSHA) to find out if they're covered by the vaccine mandate. In the meantime, HR pros are being bombarded with questions about what the orders mean for their workplace.
Implementing Vaccine Mandate Regardless
Even before President Biden announced the vaccine mandate, many employers decided to adopt similar policies in response to rising infection numbers caused by the COVID-19 variants.
The directive was handed to HR pros, who then had to create a policy, develop procedures, outline communication plans, evaluate exemption requests, and worry about employee retention.
Wondering How Diligently to Investigate Religious Exemptions
The Equal Employment Opportunity Commission (EEOC) has provided guidance on vaccine mandates. In particular, the agency has outlined how employers should consider and evaluate medical and religious exemption requests from employees.
HR pros are accustomed to handling medical exemptions when processing Americans with Disabilities Act (ADA) accommodations, Family and Medical Leave Act (FMLA) leave requests, and workers' compensation claims. Evaluating an employee's claimed sincerely held religious beliefs makes even the most experienced HR leader uncomfortable.
Making Sure Supervisors Don't Ask Inappropriate Questions
Supervisors are the eyes, ears, and backbone of most organizations, but they also may be an employer's Achilles' heel. That's especially true when, even with good intentions, they:
Press employees and make inappropriate inquiries about their vaccination exemption requests; or
Overshare their opinions about the vaccine or the employer's COVID-19 policies.
You all have at least one supervisor who causes you to lose sleep, right?
Bracing for Pushback, Discrimination Claims
Employees seeking exemptions from vaccine mandates usually don't go quietly when the requests are rejected, especially when the denial means they may lose their jobs.
HR pros need to be sure all the "i's" are dotted and the "t's" are crossed in the exemption evaluation process and the reasons for the denials. After all, improper inquiries, unfounded denials, and inconsistent actions could result in discrimination or retaliation claims.
Arranging Clinics for COVID-19 Vaccinations, Boosters, Flu Shots
As if HR pros didn't already have enough on their plates, they now need to become quasi-public health professionals as they coordinate on-site or off-site clinics for COVID-19 shots and potential boosters. And, by the way, flu season and flu shots are just around the corner.
Enforcing Testing, Mask Rules for Unvaccinated Employees
Regardless of whether your organization has established a COVID-19 vaccine mandate, it more than likely has a masking policy for on-site unvaccinated employees.
As part of the federal mandate and/or your organization's safety policies, HR pros must coordinate the enforcement of the masking and testing rules and properly maintain the test records.
Having Difficult Conversations with CEO
Most HR pros have had at least one uncomfortable discussion with their CEO during the COVID-19 pandemic related to remote work, furloughs, layoffs, safety policies, return-to-work plans, or responses to employees who are still unvaccinated. The conversation can be especially challenging when the company leader is insisting (1) everyone should return to work or (2) all vaccinated employees should be fired.
During the tough talks, HR pros must outline the legal and risk-analysis issues while walking the tightrope of loyalty to the organization and worrying about their job status. Melatonin tablets won't relieve that anxiety in the middle of the night.
Refereeing Conflicts Between Employee Factions
After the COVID-19 outbreak began, it was difficult enough to try to explain why some employees were permitted to work remotely and others were not. With employers imposing vaccine mandates and returning to masking policies even for the vaccinated, HR pros may need to referee even more intense disputes between either vaccinated and unvaccinated employees or remote and in-office staff.
Conflicts can arise when (1) vaccinated employees drop a dime on unvaccinated employees who don't wear their masks or properly social distance, (2) an individual notices a passing, disapproving glance among coworkers, or (3) all-out arguments erupt over the vaccine and the company's policies. Of course, HR is often in the middle of the uncomfortable and disruptive disputes.
Sorting Out Residual COVID-19-Related Legal Issues
The mandatory and voluntary aspects of many COVID-19-related federal laws from 2020 and 2021 (e.g., the Families First Coronavirus Response Act and the Paycheck Protection Program) have ended. Nevertheless, organizations often lean on HR pros to (1) field questions about the laws, (2) provide needed documentation, and (3) help to sort out tax credit and related issues.
While the tasks may seem more like finance or accounting issues, HR plays an important role in reconciling the programs and benefits.
Bonus Stressor
Because of the COVID-19 crisis, HR pros are spending more time monitoring remote workers to avoid data breach, discrimination, and other misconduct.
Even before the pandemic, HR teamed up with IT to set up and coordinate remote work. With more employees choosing to work away from the office over the last 18 months, HR pros have had to worry about online security, data breach, theft, harassment, and other misconduct committed while using the organization's computer equipment.
Final Thoughts
Surviving the COVID-19 surge isn't just a physical achievement. The pandemic has taken its toll on your mental and emotional well-being, too.
HR pros aren't immune from the coronavirus or the stress it brings to the workplace. They've shown incredible resilience over the last two years, and organizations are safer and better-positioned to rebound as a result. Here's to brighter days and more restful nights for our friends in HR.
Article courtesy of content partner BLR.  Author Jim Reidy is a partner at the Sheehan Phinney and chair of its labor and employment law practice group.