NLRB Reviews Signal Potential Enforcement Changes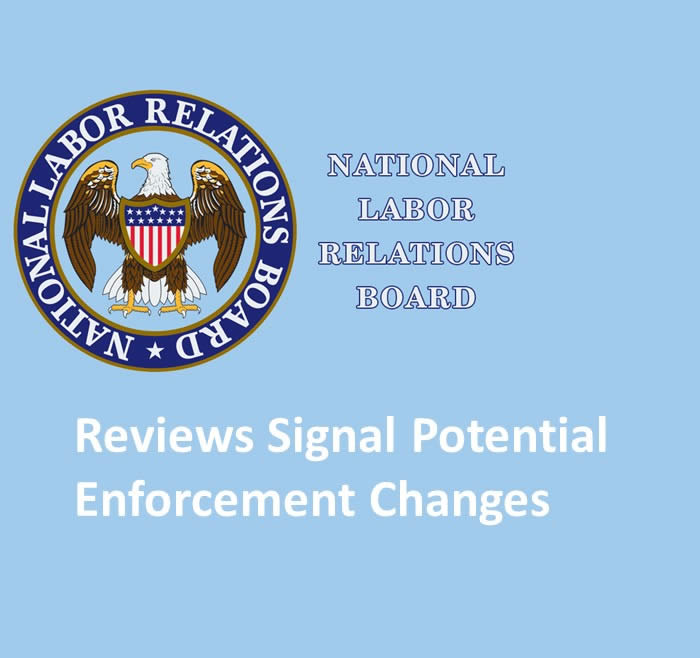 General Counsel Charts New Course for NLRB
Recently sworn-in General Counsel (GC) Jennifer Abruzzo has issued a memorandum setting forth new enforcement priorities for the National Labor Relations Board (NLRB), which include a review (and potential overruling) of Board decisions issued during the Trump administration that had overturned legal precedent. To achieve the priorities, Abruzzo is requiring the agency's regional offices to submit cases involving certain subject matters to the Office of the General Counsel for Advice before issuing a decision. The list of topics contained in the memo is a not-so-subtle sign the GC is seeking to chart a new, more employee-friendly course than the Trump-era Board.
NLRB Recently Overruled Legal Precedent
Abruzzo's memo opined that "over the past several years, the Board has . . . overrul[ed] many legal precedents which struck an appropriate balance between the rights of workers and the obligations of unions and employers." She included the following subject-matter areas for review.
Employer handbook rules. Specifically, the cases would involve the applicability of the 2017 ruling in The Boeing Co. to confidentiality, nondisparagement, social media, media communication, civility, and no-camera rules.
Confidentiality provisions/separation agreements and instructions. The cases would look at the applicability of Baylor University Medical Center. The 2017 Board ruling found separation agreements were lawful if they (1) contained confidentiality and nondisparagement clauses or (2) prohibited departing employees from participating in claims filed by any third party against the employer in return for severance monies.
Protected concerted activity. The cases would review the applicability of Alstate Maintenance, LLC. Abruzzo's memo says the 2019 ruling "narrowly construed what rises to the level of concerted activity and what constitutes mutual aid or protection within the meaning of Section 8(a)(1)" under the National Labor Relations Act (NLRA).
Union access. The cases would revisit the applicability of Tobin Center for the Performing Arts and UPMC, two 2019 rulings that affirmed employers' rights as property owners to limit access to their premises.
Union dues. The cases would review Valley Hospital Medical Center. The 2019 Board ruling found an employer may lawfully cease checking off and remitting union dues unilaterally after contract expiration.
Employee status. The cases would take another look at SuperShuttle DFW, Inc. The 2019 decision placed emphasis on the significance of entrepreneurial opportunity when determining whether an individual is an independent contractor.
Other Areas, Initiatives
Abruzzo also identified other subject matter areas she would "like to carefully examine" and that the regional offices must submit for review.
Weingarten. The focus would be on United States Postal Service, a 2021 ruling in which the NLRB refused to find a predisciplinary interview right to information, as well as other cases involving the applicability of the so-called Weingarten principles in nonunionized settings.
Employer duty to recognize and/or bargain. Specifically, Abruzzo is looking for cases involving surface bargaining or the refusal to furnish information related to a relocation. In addition, she hopes to reexamine the applicability of Shaw's Supermarkets, Inc., a 2007 ruling that permits midterm withdrawals of recognition when they occur after the third year of a contract of longer duration.
Employees' Section 7 right to strike and/or picket. The cases would zero in on intermittent strikes and employers' permanent replacement of economic strikers.
Remedies and compliance. The goal is to find cases involving make-whole remedies and a discrimination victim's obligation to search for interim employment.
Employer interference with employees' Section 7 rights. Abruzzo is interested in cases involving instances when an employer (1) tells employees that access to management will be limited if they opt for union representation or (2) threatens plant closure.
Takeaways for Employers
Abruzzo's memo, which comes on the heels of the U.S. Senate confirming two union lawyers to Board positions, should be a clear signal that significant changes to labor law precedent are fast approaching. We'll continue to monitor the situation and report any further developments.
Article courtesy of content partner BLR.  Author, David A. Richie is an attorney with Felhaber Larson in Minneapolis, Minnesota.