Do You Need an Infectious Disease Policy in Your Handbook?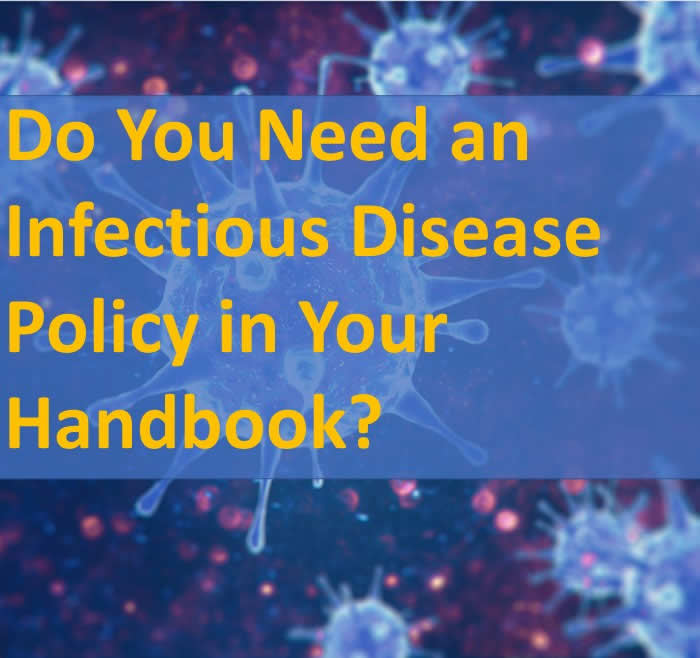 New York's HERO Act May Provide the Model Policy for All Employers
The New York Health and Essential Rights Act (HERO Act) requires all New York employers to create an infectious disease exposure prevention plan (IDEPP) and to distribute the IDEPP to employees by September 6, 2021. The plan is strikingly similar to the general Injury & Illness Prevention Plan many employers are very familiar with.
The HERO Act was passed in response to the COVID-19 pandemic and is intended to prevent the transmission of infectious diseases in the workplace and to protect employees during any future airborne infectious disease outbreak. In July the New York State Department of Labor (NYSDOL) released its HERO Act minimum standards and template policies related to airborne infectious disease prevention. The standards establish minimum health and safety requirements, as well as other employer obligations relating to exposure prevention plans
These templates are actually quite simple to complete, very useful and (although not necessarily intended to be so) they have very wide applicability (beyond NY) with very minor modifications.
For a more detailed overview of the NY HERO Act and using the state-issued model policies, please continue to our blog.
The New York Requirement
Full details on the NY HERO ACT can be found here: NY HERO Act | Department of Labor.
Under this new law, the NYS DOL, in consultation with the NYS Department of Health, has developed a new Airborne Infectious Disease Exposure Prevention Standard, a Model Airborne Infectious Disease Exposure Prevention Plan, and various industry-specific model plans for the prevention of airborne infectious disease. Employers can choose to adopt the industry-applicable template/plan provided by NYS DOL or create an alternative plan that meets or exceeds the standard's minimum requirements.
The general model plan can be found here: NY Hero Act, Model Airborne Infectious Disease Exposure Prevention Plan. The 11 industry-specific templates (available on the NYSDOL's website) are Agriculture, Construction, Delivery Services, Domestic Workers, Emergency Response, Food Services, Manufacturing and Industry, Personal Services, Private Education, Private Transportation and Retail.
The deadline for NY employers to present their IDEPP to employees is September 4, 2021; however, the plan only needs to be activated "when an airborne infectious disease is designated by the New York State Commissioner of Health as a highly contagious communicable disease that presents a serious risk of harm to the public health." Currently there is no such designation; so, although employers must have the plan in writing and distributed to employees, the plan will not be initiated.
The Act requires that the IDEPP should be provided to all employees in English and the employee's primary language. Employers also must provide copies to new employees upon hire and within 15 days after reopening of the business following a period of closure and must post the IDEPP in a visible and prominent location within each worksite, other than a vehicle. Additionally, employers that provide an employee handbook to employees also must include the IDEPP in the employee handbook. This is not necessarily a natural fit for a handbook, as it is far more a procedure than a policy.
Employers must develop the plan for each "worksite," defined under the HERO Act to mean "any physical space, including a vehicle, that has been designated as the location where work is performed over which an employer has the ability to exercise control" – however, a "worksite" does not include a telework site unless the employer "has the ability to exercise control of such site."
Applicability Outside of New York
Looking over the templates, it is clear that there is nothing New York-specific. More importantly, the information required can be essential in the event of an airborne infectious disease exposure.
The NY templates are provided as fillable PDFs and can be replicated and overwritten into a plan that can be applicable to any location or industry. The template provides for a very comprehensive and potentially highly-beneficial plan for employers.
The completed plan should be under 10 pages. Using the NY templates as a model, the plan includes:
RESPONSIBILITIES – The plan requires commitment to ensure compliance with all plan elements aimed at preventing the spread of infectious disease and names supervisory employee(s) that are designated to enforce compliance with the plan. Additionally, these supervisory employees will act as the designated contacts unless otherwise noted in this plan
EXPOSURE CONTROLS DURING A DESIGNATED OUTBREAK – Minimum and Advanced Controls ranging from awareness, masking, staying at home, hygiene, etc., up through more serious controls including ventilation, disinfection, slowing production, rearranging workspaces, etc.
HOUSEKEEPING DURING A DESIGNATED OUTBREAK – Including disinfection methods and schedules, adjustments to normal housekeeping procedures, isolating infected work areas and proper sanitation procedures.
INFECTION RESPONSE DURING A DESIGNATED OUTBREAK – Instructing sick individuals to wear a face covering and leave the worksite and follow agency guidance and following local and state authority guidance to inform impacted individuals.
TRAINING AND INFORMATION DURING A DESIGNATED OUTBREAK – A set training plan that addresses:
The infectious agent and the disease(s) it can cause;
The signs and symptoms of the disease;
How the disease can be spread;
An explanation of the company's Exposure Prevention Plan;
The activities and locations at the worksite that may involve exposure to the infectious agent;
The use and limitations of exposure controls
A review of any standards, including employee rights provided under applicable Labor Law.
PLAN EVALUATIONS DURING A DESIGNATED OUTBREAK – Reviewing and revising the plan periodically, upon activation, and as often as needed to keep up-to-date with current requirement and documenting the plan revisions withing the written plan.
RETALIATION PROTECTIONS AND REPORTING OF ANY VIOLATIONS – A statement ensuring employees that there will be no retaliation or adverse action against any employee for exercising their rights under the plan, including reporting conduct the employee reasonably believes in good faith violates the plan or airborne infectious disease concerns to their employer, government agencies or officials or for refusing to work where an employee reasonably believes in good faith that such work exposes him or her, other workers, or the public to an unreasonable risk of exposure, provided the employee, another employee, or representative has notified the employer verbally or in writing, including electronic communication, of the inconsistent working conditions and the employer's failure to cure or if the employer knew or should have known of the consistent working conditions.
Take-Aways:
Drafting and distributing an infectious disease exposure prevention plan is a useful and fairly simple preventative step in light of the potential and realized catastrophic impact an infectious disease can have on employees, vendors and families. The New York DOL has done much of the heavy lifting for us and now, employers everywhere should at least consider developing a plan in line with the models we have seen.
Including the plan in an employee handbook is a requirement in New York. Generally, we would not advise including such a procedural document, (which will be subject to constant change and modifications) in the actual handbook. Outside of New York, It will probably be better to maintain it as a separate document, but one that is shared with all employees and redistributed any time it is updated.