Featured FMLA Insight – Using Workweek Standards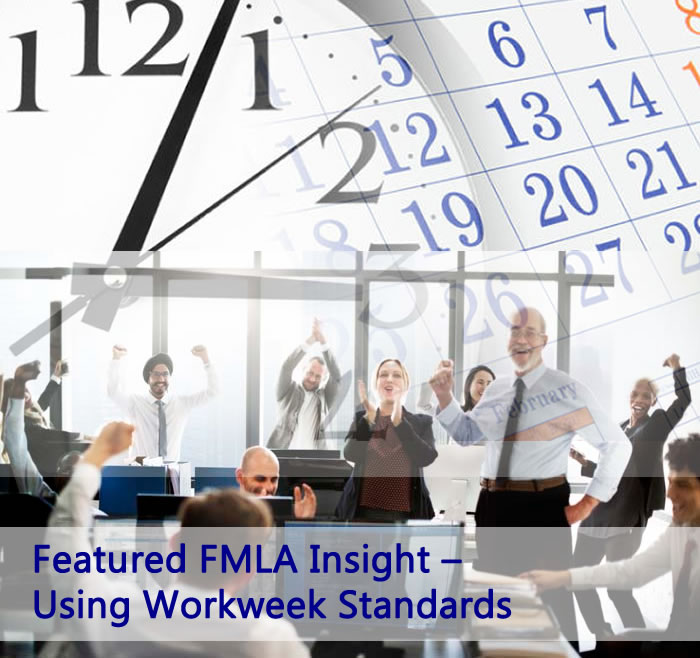 Featured FMLA Insight – Using Workweek Standards
Since its adoption in 1993, the Family Medical Leave Act has, to put it mildly, kept HR professionals nationwide on their toes.
The requirements of the FMLA are extensive and complex, and administration of individual leave requests under the law can be one of the more difficult tasks in human resources management. FLMA and related leaves has been the top issue addressed by our consultants (by far) for the past 30 years now!  It is not just the general application and requirements of the law, key definitions and interpretations and interplay with other applicable and related state and local laws; but now, we see the focus moving increasingly to issues relating to the interactive process and reasonable accommodation.
This week we feature insight on another of the trickier nuances of FMLA – how to apply the workweek standard for determining the length of FMLA when an employee works a schedule other than a 5/40.   Please continue to our blog for the clarification.
Using Workweek Standards for FMLA Leave
Q    An employee whose work hours are based on nine-hour days (45 hours per week) is on parental leave. Would their Family and Medical Leave Act (FMLA) leave end when they reach 480 hours or 12 weeks (which would be 540 hours based on their normal schedule)?
A     When an employee takes FMLA leave for less than a full workweek, the amount of FMLA leave used is determined as a proportion of their actual workweek. In other words, the actual workweek is the basis of leave entitlement.
Accordingly, an employee who regularly works 45 hours per week is entitled to 540 hours of FMLA leave, which is equivalent to 12 weeks based on their actual workweek. You can also see the Department of Labor's (DOL) Wage and Hour Division (WHD) Fact Sheet #28I.