Employment Authorization Document Extension Issued by DHS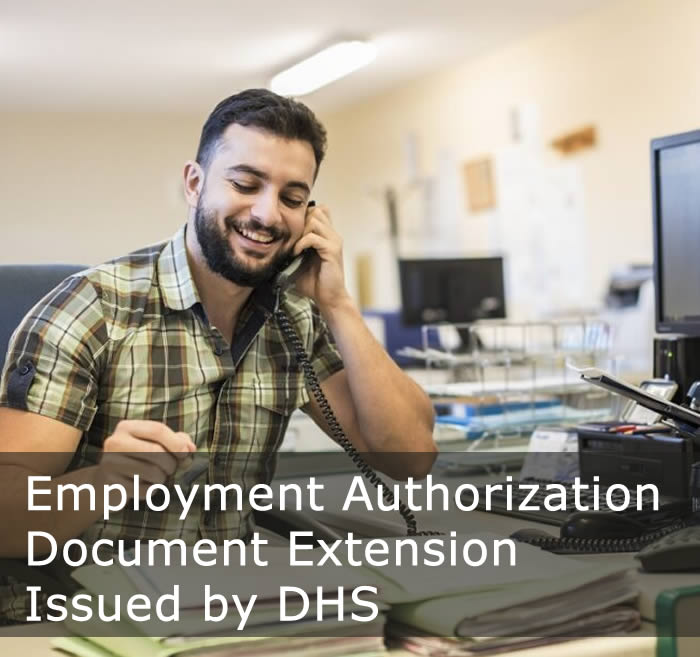 The Department of Homeland Security's pain may be a gain for employers using employment-based immigration programs.  COVID-related backlogs have forced the DHS to issue a temporary automatic extension of employment authorization documents.
Working through this process will require time, patience, a calendar and a calculator, but will be worth the effort for employers that have relied on these programs particularly during the current era of labor shortages.
Please continue to our blog for a detailed run-down of the DHS extension and the process necessary to take advantage of it.
DHS Issues Temporary 540-Day Auto Extension for EADs
Employment-based immigration programs have become increasingly prevalent as labor shortages continue to plague employers throughout the United States. Employers who are dependent on such programs have been provided support in the form of a temporary increase in automatic extensions to employment authorization documents (EADs).
Temporary Increases

In May 2022, the U.S. Department of Homeland Security (DHS) issued a temporary final rule extending the automatic extension period granted to individuals who timely file their Form I-765 renewal application from up to 180 days to up to 540 days. The temporary change was issued because of a serious backlog that has proliferated within the U.S. Citizenship and Immigration Services (USCIS).
The current backlog within USCIS stems from COVID-19 difficulties and an increase in I-765 filings. Increases in filings are partly the result of the increase in dependency on employment-based immigration programs that regularly employ foreign nationals by way of EADs. The documents expire after a specified time, so the automatic 180-day extension period allows foreign nationals to continue to work past their EADs' expiration date as USCIS processes their I-765 renewal request.
Increases in I-765 filings coupled with COVID-19 issues within USCIS lead to the agency's failure to process the applications within the 180-day automatic extension period. As a result, applicants who filed an I-765 lost their jobs as their EADs expired.
Additionally, employers that depended on workers with EADs were unexpectedly tasked with finding replacements at a time when labor demands are profoundly high, and the number of available workers is extremely low. Thus, DHS temporarily increased the automatic extension period for properly filed I-765s from up to 180 days to up to 540 days.
How Does Extension Operate?

First, in the case of foreign nationals whose EADs expired due to their properly filed I-765 not being processed within the 180-day extension period, their employment eligibility was reinstated May 4 and will last up to 540 days from the original expiration date of their EAD.
Second, in the case of foreign nationals whose I-765 is still processing within the 180-day extension period, a 360-day extension period will be applied at the end of their 180-day extension for a total eligibility period of up to 540 days beyond the expiration date of their EADs.
Lastly, in the case of foreign nationals whose EADs were valid on May 4, or who timely file an EAD renewal application before October 27, 2023, an automatic extension period of up to 540 days will be applied if their EAD expires before their application processes.
Automatic Extension Period's Effects on I-9 Compliance

The new 540-day extension period aids employers of foreign nationals in retaining their workforce, but it also increases risks of employment eligibility verification noncompliance and employment discrimination violations due to miscalculations of eligibility. Foreign nationals who lost eligibility may now be eligible to work again, while others will maintain eligibility that would have lapsed under the 180-day extension period. Thus, you must make sure to comply with Form I-9 requirements to avoid costly penalties.
New employees who regained eligibility should use the extended expiration date to complete Section 1 of their Form I-9, if applicable. Employers filling out the employer review and attestation in Section 2 of the I-9 should list the date that the automatic extension period expires.
For employees awaiting extension approvals, you should update their previously completed I-9 to reflect the extended expiration date for the EAD extension while the renewal is pending. You should reverify your employees' eligibility before the date the automatic extension expires. For employees whose employment authorization expired before May 4, you may either reverify the employment authorization on their existing I-9 or complete a new I-9.
Takeaways

It's essential to understand eligibility periods that apply to current and prospective employees because USCIS doesn't plan to issue updated Form I-797C notices to eligible applicants who filed their I-765 renewal application before May 4, 2022. The agency has provided an EAD expiration date calculator, however, to assist you through this transition period. Lastly, automatic extension periods granted to individuals who timely file their Form I-765 will revert to the 180-day time period after October 26, 2023.
Article courtesy of content partner BLR.  Author Jacob M. Monty is an attorney with Monty & Ramirez LLP in Houston, Texas.