Diversity, Equity, and Inclusion Must Include Accessibility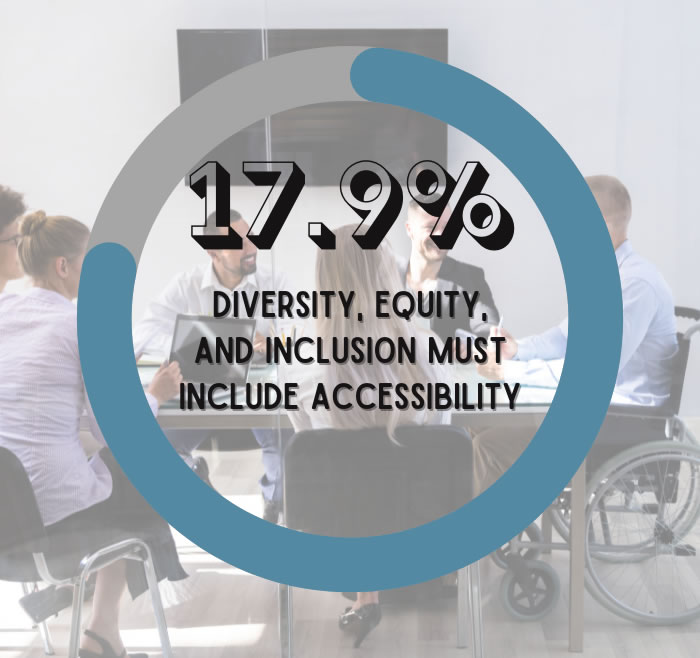 Most employers have placed an increased emphasis on developing and following policies and programs that promote diversity, equity and inclusion. Can the program be truly inclusive though, if, it potentially excludes close to 18% of the workforce? This would be the percentage of workers that identify as having a disability.
Please continue to our blog for an insightful article exploring the background and some valuable recommendations for creating and maintaining a fully accessible workforce.
Diversity, Equity, and Inclusion: But What About Accessibility?
Based on a study by the U.S. Bureau of Labor Statistics (https://bit.ly/3B5E6By), 17.9 percent of U.S. workers in 2020 identified as an individual with a disability. Yet most employers focus their diversity, equity, and inclusion (DE&I) efforts exclusively on attracting, promoting, and advancing employees of color and women. While those efforts are critically important and long overdue, true inclusivity is not possible if almost 18 percent of the workforce is left out of the equation.
Accessibility, within the broader DEI&A context, goes beyond compliance with the legal obligation to provide reasonable accommodations. The "A" in DEI&A focuses on creating a workplace that permits individuals with disabilities to participate fully in career-developing opportunities. The COVID-19 pandemic forced employers to reimagine how work can be done. That experience can inform efforts to make the workplace more accessible for individuals with disabilities.
Below are recommendations for creating and maintaining a fully accessible workforce.
Implement a strategic plan. Identify short-term and long-term initiatives aimed at creating a more accessible workplace. Implement a strategic plan for increasing representation of individuals with disabilities in the workforce at all levels and creating an environment in which individuals with disabilities can be successful.
Undertake periodic review of all position descriptions. Rethink how work is done in the organization. Advancements in technology provide alternative ways to perform a range of tasks. Consider whether these advancements will make positions within your organization more accessible for employees with disabilities. Also consider structuring similar positions so the duties can be completed by a team.
Reimagine the hiring process. Are stated qualifications necessary to perform the job? Are the stages of the selection process necessary, or can the process be streamlined and made more accessible? Is there an alternative to the traditional in-person interview?
Think outside the box when addressing accommodation requests. There is no "one size fits all" when it comes to addressing applicants' and employees' requests for accommodations. Develop a list of resources that can help address accommodation requests, including the Job Accommodation Network (https://bit.ly/383Twth) and the U.S. Department of Labor's Office of Disability Employment Policy (https://bit.ly/3gsQ687).
Recognize that not all disabilities are apparent to others. Many individuals live with hidden disabilities, including depression, diabetes, epilepsy, cancer, autoimmune deficiencies, anxiety, and attention deficit disorder. Because of the breadth of conditions that are considered disabilities, employers must think beyond accommodations that simply require structural changes to the workplace.
Foster open discussions about the company's commitment to creating an environment in which employees are encouraged to bring their whole self to work. In addition to expanding equal employment opportunity training to include a focus on hidden disabilities, implement unconscious bias training to include a disability focus. Incorporate the Harvard Implicit Association Test (https://bit.ly/2WhXqw0) into your training.
Engage employees with disabilities in open discussions on how to make the workplace more accessible and welcoming. Areas of focus may include:
Review of the reasonable accommodation process to ensure it is as streamlined and user-friendly as possible;
Discuss what more can be done to help employees with disabilities succeed;
Seek input on strategies for recruiting individuals with disabilities; and
Preview major initiatives or changes to the workplace to ensure the needs of employees with disabilities are considered and addressed early in the planning process.
Ensure company communications, including training, are accessible to individuals with disabilities. Provide multiple avenues for accessing information—written, verbal media, and chat support options.
Stay up to date on technological advancements that make the workplace more accessible.
Highlight success stories. Employers often highlight employees who have achieved a significant result inside or outside the workplace. Ensure the accomplishments of employees with disabilities are also highlighted. Discuss the company's commitment to advancing and retaining employees with disabilities, and preview programs and initiatives to promote their success.
Review internal and external communication materials to ensure employees with disabilities are featured.
Be a leader. In taking the lead on this issue, your business will prosper not only from an ethical standpoint but from an economic one as well. Inclusive businesses are a magnet for talent, have a broader customer base, spur more innovation, and offer a better quality of life for all.
Employers are competing for talent in a tight labor market. Individuals with disabilities are generally an untapped source of talent. Access, with a capital "A," is critical to attracting and retaining qualified individuals with disabilities. To win this race for talent, employers must provide a vibrant and welcoming environment, professional development opportunities, potential for advancement, and recognition.
Article courtesy of content partner BLR. Author Consuela A. Pinto is an attorney with FortneyScott in Washington, D.C.