Coronavirus Attorney Q&A Webinar Presentation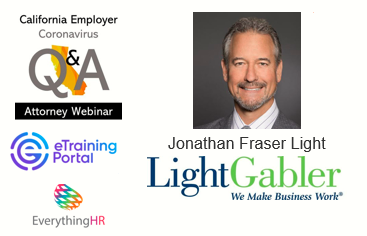 Link to Coronavirus conference call presentation 3-25-2020
In the face of the Coronavirus pandemic, California employers have many compliance-related questions as they navigate new federal and state laws, policy changes and special exceptions. They are having to answer employee questions and strategize with senior management on organizational changes.
Employers Group helpline consultants have answered hundreds of member questions. Join Employers Group and our special guest, Jonathan Fraser Light of LightGabler, for answers to not only the common questions we have received, but to the questions you may have.
We plan to answer the following, plus much more:
What you need to do now in respect to COVID-19?
Should you consider a furlough or layoff?
What is the FFCRA, when is the effective date, and what does it require the employer to do?
What tax credits are available?
How have unemployment insurance benefits changed?
What is California's Work Share program?
What does "shelter in place" mean for employers?
What is considered "essential business"?
Can we reduce exempt employee hours?
What can we do if an employee takes off due to school closure?
What wage and hour requirements apply to newly-remote, non-exempt employees?