California's New Labor Laws for 2022: Focus on AB 1003 and Wage Theft as Grand Theft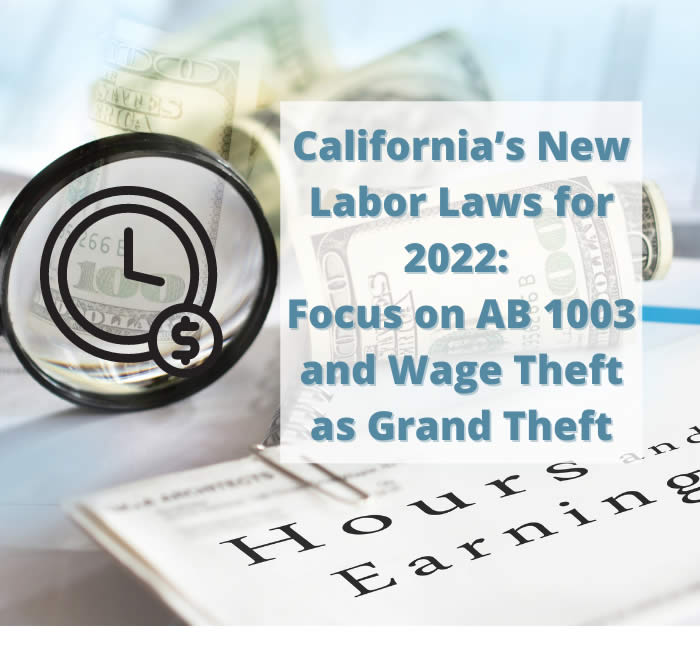 While we certainly had no reason to suspect it would turn out otherwise, the California State Legislature, once again, did not disappoint in terms of the new laws passed and signed off on by the Governor this session relating to employment practices.
By our count, there are 10 new employment-related laws that will be in place come January 1, 2022.
All of these will be discussed and dissected at our upcoming annual Workplace and Employment Law Update. If you have not registered for this full-day, virtual event featuring top attorneys and subject matter experts, be sure to do so soon. Here is a link to the program and registration: WELU 2021
Last week we featured an article on AB 1033, which expands the definition of "parent" under the CFRA to include parents-in-law. Please see our blog post from 10/7 for more detail: CA Employers Must Update CFRA Handbook Policies for 2022.
This week we are featuring an analysis of AB 1003, which imposes significant penalties (heavier penalties and jail time for owners, managers, and executives) for wage theft of employees or independent contractors. Please continue to our blog for more on this important piece of legislation.
Wage Theft Now in CA Penal Code
AB 1003 was signed into law by Governor Newsom on September 27, 2021. Effective January 1, 2022, the new law underscores the state's continued intense focus on the proper payment of wages to include significant criminal penalties for employers that could possibly be classified as felonies.
At its core, AB 1003 adds Section 487m to the California Penal Code. The new section reads:
(a) Notwithstanding Sections 215 and 216 of the Labor Code, the intentional theft of wages in an amount greater than nine hundred fifty dollars ($950) from any one employee, or two thousand three hundred fifty dollars ($2,350) in the aggregate from two or more employees, by an employer in any consecutive 12-month period may be punished as grand theft.
The key word here is "intentional," which is defined in the new law as:
…deprivation of wages, as defined in Section 200 of the Labor Code, gratuities, as defined in Section 350 of the Labor Code, benefits, or other compensation, by unlawful means, with the knowledge that the wages, gratuities, benefits, or other compensation is due to the employee under the law.
Not that it is really much of an option anymore for California employers, but AB 1003 does clarify that, for purposes of the new section, "employee" includes an independent contractor and "employer" includes the hiring entity of an independent contractor.
Finally, it is important to note that the new law does not preclude the recovery of restitution (wages, gratuities, benefits, or other compensation that are the subject of a prosecution), and does not prohibit the employee or the Labor Commissioner from opening a civil action to seek remedies provided for under the Labor Code for acts prosecuted under this new section
AB 1003 certainly turns up the volume on the punitive approaches to wage and hour violations in the state. While there are several Labor Code violations that have been considered possible misdemeanors for some time, to the extent that wage theft could now be potentially considered a felony should be a clear message to all employers that this must be taken seriously.
There are numerous violations that can result in an employer entering the realm of what could possibly be considered wage theft, including failure to pay overtime, paying below the minimum wage, allowing off the clock work, improper meal and rest period practices, etc. All CA employers should use AB 1003 as motivation for conducting a simple wage and hour audit. Be sure to review handbook policies, audit for proper exemption status, review actual meal and rest period practices, audit pay for all employees to ensure all are at or above minimum wage ($15 per hour as of January 1, 2022), and conduct training for all supervisors and managers to make sure they are familiar with the basics of wage and hour law and are able to identify risks that will necessitate involving HR,