California's Emergency Temporary Standards FAQs Updated to Address Potential Vaccine Mandate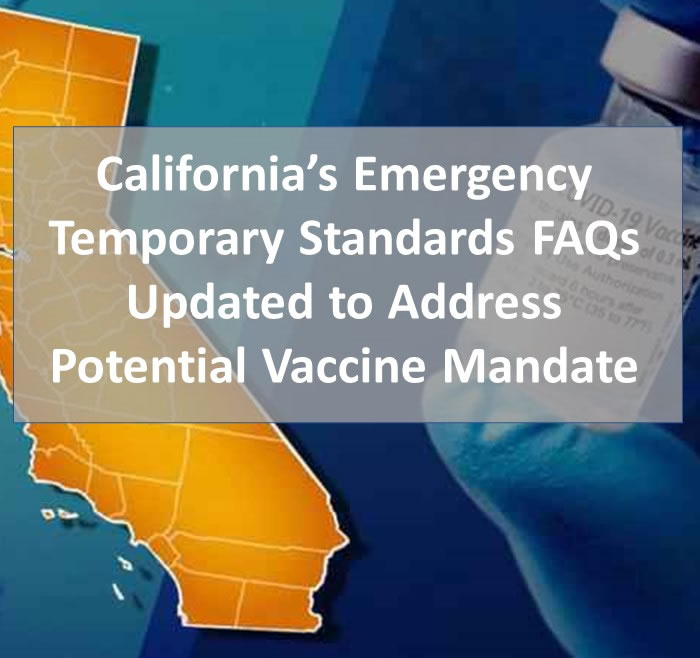 The fact that the most recent update to the California COVID-19 Emergency Temporary Standards (ETS), is one that can easily slip by unnoticed without causing any huge immediate risk to employers is generally good news.
On October 5th, Cal/OSHA issues an updated FAQs addressing how the state might respond if federal OSHA adopts a standard obligating employers with 100 or more employees to require COVID-19 vaccines or weekly testing.  The response indicated that CA would follow the federal guidelines:
"California maintains an occupational safety and health plan that is approved and monitored by federal OSHA. As a "state plan state," California is required to adopt occupational safety and health standards "at least as effective" as federal OSHA's, in accordance with Section 18 of the federal Occupational Safety and Health Act of 1970 (29 USC § 667(c)(2)).
If federal OSHA adopts a standard obligating employers with 100 or more employees to require either vaccines or weekly testing for employees, the State will have 30 days after the date of promulgation of the federal standard to adopt a comparable standard."
Because on-going revisions of the ETS are expected, this would be a good time to review the current guidelines provided by the DIR which can be found here:  ETS FAQs October 5 2021